After the much-attended preview, the collection is now about to move in. Follow here until the opening on 9 October, with a glimpse behind the scenes, as the art moves into the extension and learn everything about the architecture and sustainability in our film series.
Extension film series
5 Videos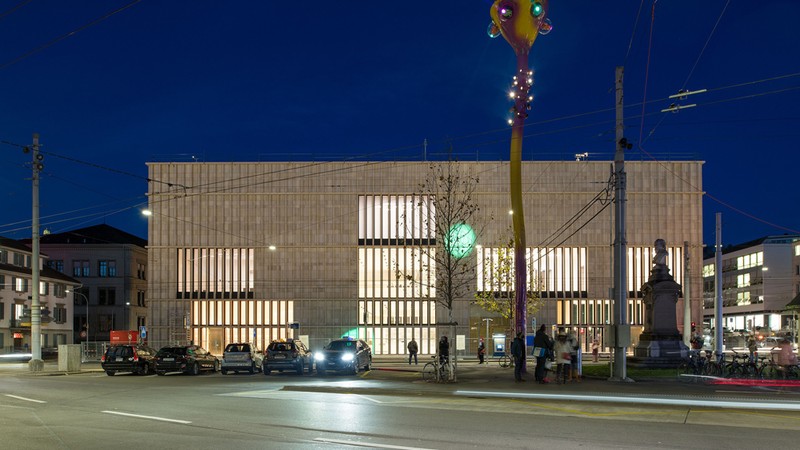 Art and construction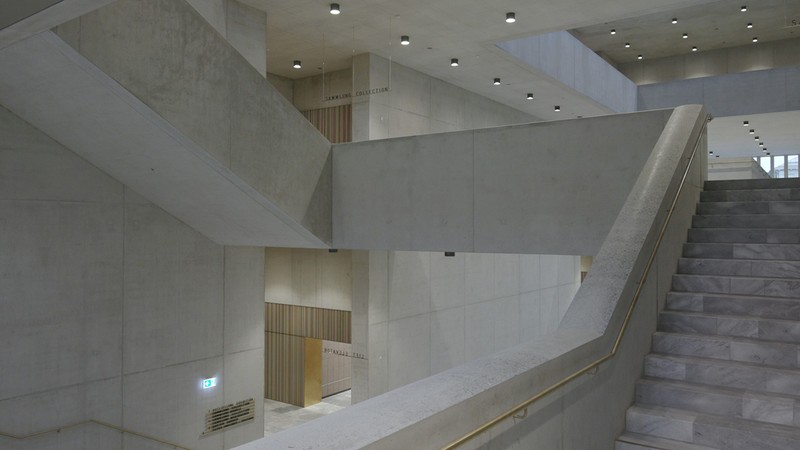 Architecture
Sustainability
Materials
Light concept
Countdown journal
The first artworks in the lobby, bar and garden
A number of works have spent months undergoing restoration to prepare them for presentation in their new permanent home. Alexander Calder's mobile 'Cinq blancs, un rouge' (1972) in the lobby feels almost close enough to reach out and touch. Max Ernst's mural 'Pétales et jardin de la nymphe Ancholie', which was painted in 1934 for the Corso Bar at Bellevue, is now the artistic centrepiece of the Chipperfield Bar. Robert Delauney's 'Formes cirulaires' (1930) draws the eye towards the second floor, while 'Grundstein' (2014), donated by Urs Fischer, lies casually between the spaces.
More in the current issue of the Kunsthaus Magazine (in german)
Behind the scenes @kunsthauszuerich
The Kunsthaus Collection in the new extension
Half of the rooms in the existing building have been reorganized. Now Munch meets Baselitz, while the Egyptian artist Anna Boghiguian shares the domed room (previously formerly home to Böcklin) with Kader Attia. Between now and the opening, the Collection, most of it post-1960, will move into the extension. Dada gains its own exhibition space, as does Cy Twombly, while Hodler and Segantini as well as Monet's water lilies will be heading across Heimplatz. Many more will follow to complement the private collections.
Private collections: Bührle, Merzbacher and Looser
The collection of Emil Bührle, with its world-famous French paintings, is moving into the Kunsthaus. The artistic concept envisages displaying the more than 180 paintings and sculptures alongside works of Classical Modernism, thereby presenting visitors with an unbroken chronological sequence of artistic epochs. Werner Merzbacher shares his passion for art with the public in a feast of colour, the fruit of a long-term cooperation featuring key figures of Impressionism, the 'Fauves', 'Brücke' and 'Blauer Reiter', Futurists and Constructivists as well as more recent positions from Lohse to Rist. Last but not least, 70 selected works of Minimal Art, Arte Povera and Abstract Expressionism from the Looser Collection are a spectacular addition to the Kunsthaus's holdings.